Image by Tegid Cartwright
We chatted to comedians Liberty Hodes and Lauren Stone to find out more about what inspires them, ahead of the next Comedy Night The Passes The Bechdel Test on Friday 4th May.
It's hard to pick only a handful of stuff that inspires us, because we get excited about all sorts of things all the time. Snacks! Art! Funny-looking dogs! But here's some highlights.
FRIENDSHIP
There's an essay by the writer Roxane Gay called "13 Rules for Female Friendships" where the very first point is to abandon the myth that female friendships are naturally "bitchy, toxic or competitive". If you're feeling toxic or competitive about your friendships, she says, you need to take a step back and work out what's going on, and how to fix it. We definitely live by this. It's so much better to have eachother's backs. That applies to all friendships, obviously, not just between women. But on the comedy scene it can feel like women comics are being set up to compete with eachother, because we're supposedly "scarcer" or the opportunities for us are scarcer. Women, trans and non-binary comics tend to have to deal with a lot of prejudice, sexism, low-key or occasionally high-key aggression in comedy clubs, and more. It's easier to come back from a horrible gig if you can share it with someone – even if that's just texting your pal and going, "That was HORRIBLE" – and know that they're going to support you. Equally, it's just more fun to do shows with your pals. It's possible to throw out throw that attitude of "How am I better than you?" and go, "How can we make something together?" instead. One of the first conversations we ever had was about running a comedy night together, and we've become proper friends through doing that. That's amazing.
COOL GIRL PUNKS
Liberty suggested this one. It's definitely something we share. Female-led punk/ new-wave bands of the 70's and 80's (and now!). It's inspiring to see women being gross and loud and angry and defiant of expectations, especially in a male-dominated scene. It's a reassurance too that you don't need loads of cash or privilege to make something good. You can do it with the experience and the resources and the friends that you have. Also, they make us want to dance around. The Slits, Bush Tetras, Vivien Goldman, Essential Logic, X Ray Spex, Life Without Buildings … this Suburban Lawns number is a particular favourite. "Oh, my genitals!"
COMEDIANS
There are some famous comics that we love, and comedy series off the telly. But we're probably most inspired by fellow gigging comedians. It's absolute magic to see someone you know put a new bit of material onstage. There's a student comedy duo, Sowersprouts, who did their third ever gig with us I think, when we'd just started out running the show. Not to be too cute about it, but it's been so nice to see them develop their stuff since then. And standing at the back of a comedy club watching someone do a particular joke or a particular bit and going, "Bloody hell! That is good" and feeling, in a positive way, like you need to up your game!
POTATO SNACKS
This might seem daft, but the potato is a heroic vegetable for us. We genuinely talk about it a lot. Maybe it's to do with travelling around to gigs, doing a lot of long distance bus journeys and working other jobs with odd hours and odd pay. You want something hot and cheap and filling – like chips! – that will stop you having a hungry rage on the Megabus. Or crisps and a cup of tea in the green room because you don't want to eat a whole meal before you go onstage. The lovely spud seems to always come to our rescue.
THE AUDIENCE
Strap yourselves in for sentimentality, folks. We've been running A Comedy Night That Passes The Bechdel Test for over a year, now. We've just started up a version of it in London, too. And we are consistently knocked out by the loyalty, generosity and warmth of the audience we get for the show. We've obviously worked hard to cultivate a friendly atmosphere – part of the point of the night is to welcome people who might not feel at home in the crowd at main-stream comedy shows. But the audience have really risen to the occasion. At Alphabetti in March, we invited the crowd to headline the night – reading a fake horror-movie script called "The Killer Swing" – and it was better and more silly than we ever could have imagined. At times like that, it feels less like running a comedy night and more like having a massive gang of friends. So here's to you, audience.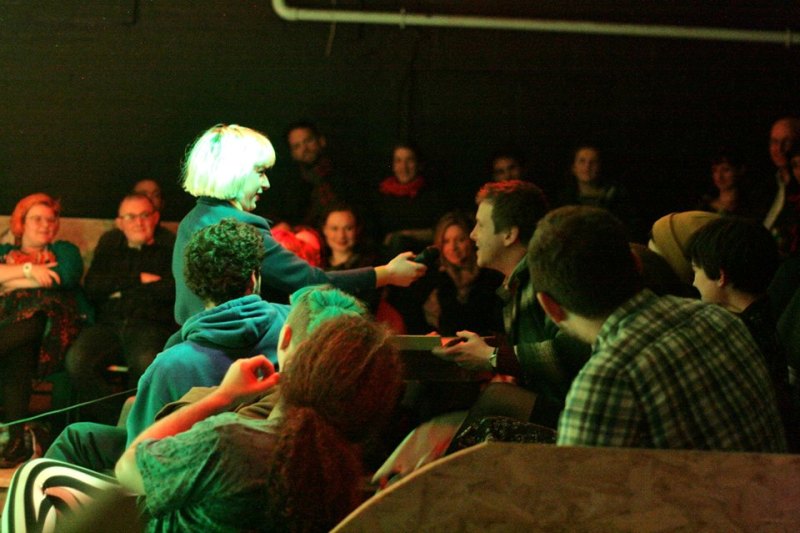 An honourable mention: independent/ DIY venues. We've had so much support from Alphabetti Theatre in particular. It's where we met, and where the night started out, and it's been incredible to see how much it's grown, especially after the New Bridge Street building was demolished and they had to find a new home. That persistent, do-it-yourself, community-driven attitude is heartening, and Newcastle's full of it.
The Ninth Comedy Night That Passes The Bechdel Test is at Alphabetti Theatre, Newcastle on Friday 4th May.