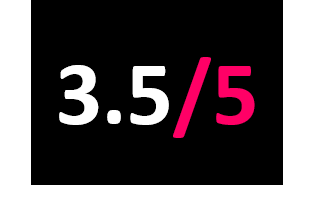 Republic of Music
Released: 25.01.19
When Blood Red Shoes released their self-titled, self-produced album in 2014, they cemented themselves as one of the best alternative rock duos around. Their sound slotted right in alongside The Kills, Royal Blood and early two-piece pioneers, The White Stripes. Their new album, out in January 2019, is a big 'fuck you' to that legacy.
After a four-year break from the recording studio, put down to the fact that bandmates Steven Ansell and Laura May-Carter could no longer stand each other, Blood Red Shoes' new album, Get Tragic, represents a bold departure from what made the band famous.
In this brave new world, Blood Red Shoes have moved away from that raw, uncut, guitar-based noise rock and delivered a record that's more polished and high-fidelity than we could have imagined. And it actually sounds really good.
Although they've lost that DIY element that I loved about the last record, they've created a really well-balanced soundscape with more dynamism and musicality than before. Fuzz guitar has been largely replaced by keyboards and synthesisers. All this makes Get Tragic the story of a band that are feeling experimental, unwilling to simply replicate the same old formula.
It's the second track and lead single, Mexican Dress, that really stands out on the first listen. It incorporates more textures than we've ever seen BRS deploy; sudden changes in tempo create a real foot-tapping rhythm and the moody layered vocal and embroidered synth notes compliment their hallmark fuzz bassline really well.
It's really quite an eclectic album. You have really heavy synths and drowning vocals coming through on Nearer and Warpaint tones underpinned by a droning drum machine on Beverly. Howl is one of the most surprising tunes, pure synth-pop that could easily be on a Haim album.
The album is brought to an end with Elijah, a heady mix of everything that's new about BRS. Whirring harmonies, distorted bass, layered synths and drum machines meets tragedy, drama and intrigue.
It's a bold album from a band who feel like that DIY rock sound no longer cuts through. It'll be interesting to see how fans respond but there's a lot of great things about Get Tragic. It's big, it's moody and it's really trying to say something.