Image: Pigeon Detectives by Tracy Hyman
After two years out in the cold the sun was shining down on the throng teeming their way between the eleven venues of Stockton Calling. The background hum of excitable chatter, comparing of itineraries, swapping recommendations and sharing notes, whilst carefully crossing the widest High Street, all meant that an Easter institution was in town again. A music festival town centre take-off spreading music and joy and community. Welcome back…
Words: Tracy Hyman
Amelia Coburn opened the BBC Introducing stage in The Link, the sister venue to The Globe. The Link is the perfect little venue, a bar and café with a stage tucked away at the back of the room, which suited Amelia's stripped back folk pop sounds. The relaxed atmosphere in the full room was a lovely way to start the day, Amelia's distinctive, expressive voice melding with guitar and ukulele to provide effortless melodies.
I left half-way through Amelia's set, because I really wanted to catch the soulful melodies of Sarah Johnsone. Happily, she was playing with a full band, which is always a treat and a good crowd filled the Green Room to see her set. Sarah has a gorgeous rich voice which is highlighted musically by the full band sound.
Storytellers Nel Unlit played the main ARC stage with their two drummers centre stage, the rest of the numerous members lined either side along the walls. They mix styles together, folk and rock with a myriad of instruments, the songs being passed around the band members like tales round a campfire. Mesmerising stuff from the group with roots in Teesside, Ireland and beyond.
Off to The Kids Are Solid Gold's ARC 2 stage now for Moa Moa, an off-beat, digital synth pop band from London. Their sound harks back to the 80s, with the quirky synth-sounds that dominated many TV soundtracks of the day. Information starts with fast rhythmic pulses over steady drum beats, guitar and synth hooks with a honking saxophone highlight with discordant wonky notes. There are gentler tracks, still highly rhythmic and infectious with the distinctive synth sounds and syncopations providing aural interest. One of the highlights of a talent packed
The Pigeon Detectives have been regulars to Stockton Calling over the years and never fail to disappoint. The energy, both of frontman Matt and the audience, are palpable. Never staying still, Matt spins round his microphone in the air like a lasso, jumps and then leans into the audience before launching into a dive across the waiting crowd. The ready anthems of songs like I Found Out and This is an Emergency fill the room with an electro-static energy of excitement.
There is a lot of excitement around Self Esteem at the moment, and after catching part of the headline set at The Georgian Theatre, as well as their intimate acoustic instore at Sound It Out records, it is clear to see why. Anthemic, catchy and upbeat pop songs, uplifting and empowering. Acoustically the harmonies impress and exude star quality. On stage, the carefully choreographed dance routines, of Arena-esque stature, pull the audience into a fervour of togetherness and confidence. Truly, a band of the moment.
Image: HYYTS by Tracy Hyman
Words: Robert Nichols
Spinning a web of gossamer guitars, floaty keyboards and pixie dust boy/girl vocals Hartlepool's Marketplace weave their pop charms over a packed and vibrant Georgian Theatre crowd. Delve deeper and the lyrics of Condensed Milk can be reflective, melancholic even. But everywhere the smiles are as wide as the keyboardist's cowboy hat or the extravagant rolls across the drum kit. Towards the end of the set the keyboardist parts the audience before plunging from the stage to breakdance on the dance floor. That is Marketplace impact alright.
After a tip-off in the street from actor Phil Harrison, it was up the stairs to the Noisy Daughters/Tracks curated venue The Social Room for DUCK. First impressions and the synth and three chord fuzz box guitar had much in common with the post-punk traditions of the trio's Leeds and Sheffield home towns. Single-string guitar leads, punky vocals, DIY attitude, how could fail not to be embraced by the lo-fi charm. But not forgetting the heavier beats and electronica giving DUCK a 21st Century cutting edge. When the guitarist swapped plectrum for drum sticks to drive home the final song I was well and truly hooked.
The queues were too long for We Tibetans so my first time entering the arena of new Stockton Calling venue Sticky's was for ZELA. Something of a lockdown sensation, ZELA have burst out of Bishop Auckland and onto the local scene like a fireball. I was surprised not to hear the dark electronica I had read about but in no way disappointed by a rocking indie guitar band with singer Liv a blaze of energy centre stage. With big turbocharged choruses, songs like Lemonade and new single Sleep Real Bad seemed to strike an immediate chord with an audience dancing and singing along. Definitely an act going places in a hurry.
Bestriding the main stage in ARC, Brooke Combe has presence and packs a punch with a wonderful, rich soulful voice. Brought up on a diet of Motown and Whitney Houston in southern Scotland, Brooke has distilled these and other influences including Amy Winehouse into her musical appeal. Recent singles Are You With Me, A Game and Miss Me Now blend soul and indie with big strident choruses. They have instant hit appeal. The young singer-guitarist soon has everyone dancing in the audience. Definitely a young star in the ascendancy.
With songs about football and the Grand National, sporting Courting could hardly be from anywhere else than Liverpool. Quirky, bouncy, shouty, indie; they're a perfect fit for a packed and sweaty dark cavern-like KU Bar. So much energy, so much attitude, they back it all up with an alternative guitar sound that is as leftfield but equally as compelling as Pavement or Parquet Courts. Courting almost take the low roof off the venue.
It was time for some solid gold pop sanity supplied in scoopfuls from Coco and The Lost. Singer Ella knew there was Something Going On as they replaced RATS at the top of the bill. It was bright and breezy, happy, boppy stuff exemplified by the wickedly infectious singles Not Famous or Crying in the Bathroom. We were surfing the New Wave of Britpop at Storytellers close down.
A big hit at last year's Twisterella HYYTS were back down from Glasgow with their all action electronica-fuelled 80s to 21st Century excess. They roared onto the ARC 2 stage like old friends and with broad grins, cranking up the beats and tuning up the vocals. There is so much warmth and positivity in the sound. You cannot fail to love the exuberant dance moves across the stage or the soaraway choruses. Then comes a timeless classic cover, Respect by the Communards, and how could we not all join in and dance away into the night.
Headlining the NARC. stage, Teesside's own big personality fire crackers Komparrison have an absolute blast at The Green Room. Dynamic duo Elise Harrison and Katilyn Kempen have certainly moved the tempo up a few notches since their acoustic years. They are fully plugged in these days with their big bad punky band delivering the no nonsense, attitude over platitude lyrics at helter skelter velocity. Recent release Loose Lips aims a broadside at the dating game, encore Dog Bite pulls no punches. Don't mess with Komparrison. They are witty and down to earth between songs also: "If you don't know the chorus by the third time, then how rude." We don't need an invitation, everyone joins in. Beware the crowd surfing guitarist, as Komparrison close the stage in a riot of sound and sights.
To massed chanting, it is time to depart and go off into the night but not before perusing the merch desk, featuring band vinyl for sale Made in Middlesbrough at Press On. How good does that all sound? What a superb day. So worth waiting for.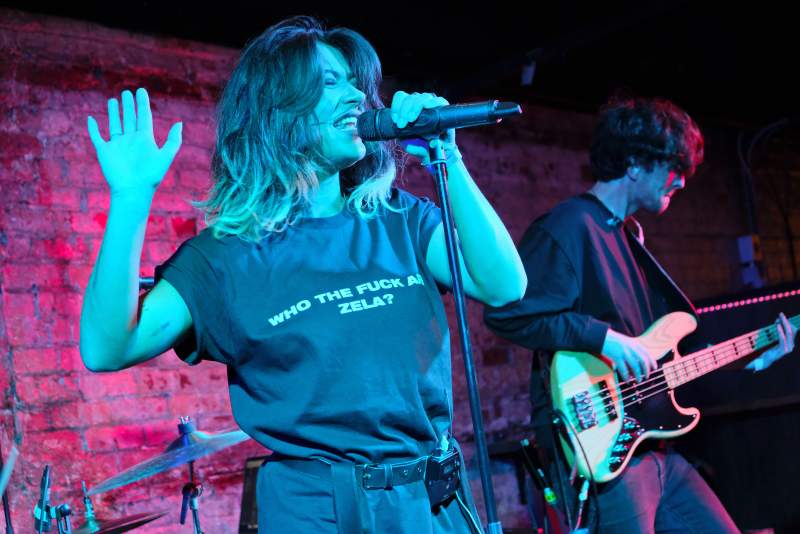 Image: ZELA by Tracy Hyman
Words: Hope Lynes
I knew I would enjoy Ten Eighty Trees' angsty, classic rock, and having looked at places to eat in Stockton, I knew I had to grab a Mick Jagger burger at Sticky's. This gig then became the perfect duo for me, watching an electric live act to start the day, while eating a great meal. Ravenous, loud and proud, this band did not feel like a 2pm booking, but a headliner all on their own. The band also set the scene for Sticky's too, as a noisy, edgy venue. Opening with The Kick, a gloriously enthralling and enthusiastic track, the energy never faded, with a respect from the crowd who had been left energised for the day. Highlight of this show was the band's rocky cover of Taylor Swift's Shake It Off, so good I couldn't even recognise the cover.
Heading to NARC.'s stage at The Green Room, I was surprised to find out the mysterious stebee was in fact Ste from Teesside institution Mouses. I had to stay, and I had no idea what I was in for…turns out, neither did anyone else! Performing his songs for the first time, the performance felt raw, honest and full of fun. Humbly on stage (and increasingly off of it) armed just with a guitar, Ste's unique and angsty voice filled out The Green Room with punky vibes. It was certainly something different, and certainly something brilliant, and a great hidden treat to witness over the afternoon.
Staying at The Green Room, I had been very excited to see MXYM, whose voice impressed me the most. It was theatrical, operatic and addictive. The backing beats had a danceability like no other, and I knew the performance was going to be a fun one! Alongside performing original songs, such as Black Limosine (which I simply had written down as 'belter' in my notes), MXYM also performed some covers, which was one of the most entertaining experiences I have witnessed. Covering Hole's Celebrity Skin, and making it queer and dancey, was impressive and well performed. Finishing on their nan's favourite Miley Cyrus track, Party In The USA felt like a party in The Green Room, everyone was so up for singing along and it created such a loving and euphoric atmosphere. The inclusion of a couple of covers worked really well to increase audience engagement, and the memorability of the act.
STONE were my highlight act to see of the day, so I had to get down to the front early. A band called CVC were going to be on before them, but I purposely didn't research the band so I could be surprised – and I was blown away. There was something so refreshing and unique about the six-piece that I can't quite put my finger on. Adorned in suave suits, gold chains, beanies and berets, I had no idea what to expect from the young lads. But as soon as the music started, the confidence started, and the place packed out for the confident band who definitely nail their sound. Mixing rock, funk and soulful vocals, the groovy and utterly unique melodies that came from this band had the entire room hooked.
I couldn't make any notes for STONE because I was too busy having the best time in a mosh pit and singing my heart out. Alongside frontman Fin, I should add. I have never been to such a powerful gig, and it was a performance within a live act that is going to stay with me forever. Fin got into his own mosh pit multiple times, and you could tell that the crowd's enjoyment was the highlight for him. Highlight of the set was Mono, a demo the band put out on YouTube but for me their best song, it's definitely a treat to catch. This is the future of punk; it's young, from Liverpool and full of energy! Outspoken, humble and angry, Fin's poetic monologue about working-class experience before new track Stupid places the punk band in a dichotomy of honest expression.
After a couple of pints, and hyped off the last set, I began to run around Stockton like a headless chicken to see how many acts I could catch. It was my first time seeing bigfatbig after listening to them for ages, and you kind of forget that this band is mates with everyone in the room and not the world's most famous act, because they are so good! The band mentioned they were working on new music, and that some of the tracks they played in this set would be the last time we hear them live, and for someone just catching the band, that was really special, and a great decision to make. Singer Robyn was very honest, humble and engaging with the crowd, which made the performance both intimate and admirable.
Loose Articles were on my must see list after being obsessed with Chaos and the aura of the riot grrrl band from Manchester. The Social Room, curated by Darlington collective Tracks/Noisy Daughters, was perfect for the vibe of Loose Articles, each in individual coloured outfits which was very PowerPuff Girl Chic of them. I feel the band deserved a better crowd, with their high energy songs being little reciprocated except for the front row of fans. But I hope that the band won everyone over, and that by the next time they perform, with more recognition and more fans under their belt, their electric performance will be greeted with moshes. The lead singer was a treat to watch live, performing directly with a persona of craziness and being an inspiration to witness rock the stage.
Despite only catching half of the set to run for the last night bus home, the last act of the night for me was The Mysterines. I have been a little bit obsessed with the band since their debut album came out, and for me Hung Up is the song of the season and resonates as a classic rock song. Despite some sound issues, the melodies of the band were incredible, and it was true noise rock in all its glory. The highlight for me is lead singer Lia, she has incredible vocals, and performs in such a deadpan way that is truly admirable and caring for her art.
In conclusion…
Stockton Calling may be about discovering new music and old favourites, but it is also about friendships and shared experience and bringing Stockton to life. A vibrancy filled the town once again and here's to next year!
Image: MXYM by Tracy Hyman