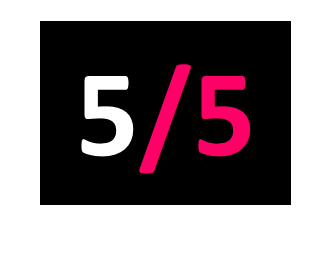 Memphis Industries
Released: 03.02.23
It's a mistake to think The Go! Team have been ploughing the same technicolour furrow for their entire career: the basic formula has remained roughly the same across their seven (!!) albums, but the band are constantly throwing new elements into the mix. That approach reaches its peak with this absolutely blinding new release: they've taken the risky step of mixing pop with politics and the results are a petrol bomb in a sparkly gift bag.
There's always been a bit more going on than mere pop confection (even The Power Is On from their debut has Ninja declaiming "Watch who's comin' at you! Why? Who's got the power?"). But the politics are slightly more explicit here, although not exactly dogmatic, and there's something approaching anger – or at least frustration. Don't get me wrong, it's not exactly Test Dept, but on the in-your-face pro-choice blast of Divebomb, as IndigoYaj announces "Cos to fight is a right, it's the right to choose", you get the sense that the playground chants are changing. And on Getting To Know – one of the sweetest songs in the GT! canon – you soon realise that it's not her boyfriend that's getting the bum's rush. Opening track Look Away Look Away is one of their most anthemic yet (in nearly two decades of turning out anthems), as West African vocal group The Star Feminine Band encourage us all to work hard for change (in French! It's like Stereolab on Haribo!)
There's a lot of guests from across the globe – curiously, human dynamo Ninja is only featured on a couple of tracks – and while The Go! Team clearly want to fuck shit up, they're still going to do it with Fisher Price beats, magpie sample-delia, Shangri-La vocals and an international rainbow coalition rather than polemics and shouting. From the wonky electronics of Going Nowhere to the sweet girl group sounds of Sock It To Me, album number seven is an explosion of colour with a side-order of revolution.
I didn't think The Go! Team could make the best record of their career this late. But they have and we should rejoice. Fuck yeah!