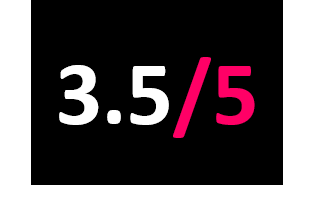 Warp
Released: 06.11.15
Without wanting to sound overly negative, there's still an element of surprise that of all the bands to pour out of Brooklyn at the turn of the millennium, it's !!! that have proven one of the longest standing. Most obviously, there's that utterly ridiculous moniker (originally intended to be pronounced however you like, Chk Chk Chk has become the generally accepted pronunciation over time for sheer convenience's sake), but there's also a sense that a band that is, fundamentally, a party band shouldn't be able to keep it going this long.
Unsurprisingly, their two previous full-lengths tried to shake up their punk-funk formula in different ways, to varying effect: the colder, moodier Strange Weather, Isn't It? has proved a pleasingly enduring listen, while the more pop-orientated Thr!!!ler seemed too conventional for its own good.
For album number six then, the band have arrived at a comfortable middle ground between the sheer energy and enthusiasm of their earlier work and their more recent attempts to find a more refined and durable take on their formula. From the grinning monkey on the cover onwards, As If is an album that finds the band feeling positive and at ease with their sound and their place in the musical landscape.
On highlights like Freedom' 15, which flits from Balearic overtones to full-on disco rush, they sound the most enthused they've been since Myth Takes without returning to the rawer sounds of old. Indeed, this might be the most polished they've ever sounded: if radio programmers were willing to take the chance, the likes of Ooo and Sick Ass Moon could fit nicely in a post-Get Lucky pop landscape.
There's still an edge to the band: even as his voice has smoothed out, Nic Offer has retained the nervous propulsion to his delivery that remains such a huge part of !!!'s identity, while the politicised edge of previous work like Me And Giuliani Down By The School Yard rears its head in Funk (I Got This), sampling an interview with Mister Cee on Hot 97 concerning sexuality. Comfortable but not compromised, As If is a reassuringly upbeat collection.